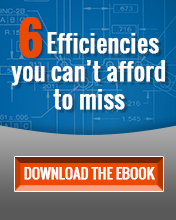 When most people hear the term metal stamping, they picture an assembly line in a car factory where workers produce thousands of identical parts each day without variation. That's not us. As a custom metal stamping manufacturer, we work with clients across many industries, from aerospace to electronics to everyday equipment. The common denominator is that our customers typically need low volumes of high-quality parts at the lowest possible total cost quickly.
We work with our customers in many different ways. We can be involved in the design process or make your part exactly to your specification. Our inventory and delivery options give you the flexibility to receive and pay for parts as you need them.
Our Facilities
At our flagship short-run stamping facility in Cleveland, Ohio, we house 133 machines. In our Highland Heights location, we take care of metal fabrication and larger short-run metal stamping projects with an additional 75 machines, including a 4,000-watt Mazak laser, CNC punches and a welding operation. Our Carolina Stamping Company in Salisbury, North Carolina, serves regional short-run stamping customers with over 100 machines, and also boasts a robotic welder as well as a Mitsubishi 3015EX plus, 6,000-watt CO2 laser cutter.
Lean Thinking
WLS Stamping is dedicated to a lean thinking methodology that prioritizes finding ways to make our manufacturing practices more efficient. That includes using standardized tooling, practicing cellular manufacturing and reducing setup and manufacture times with flexible machine configurations. Every step we can take to make our practices more efficient is a step toward making your products less expensive and, ultimately, of better quality.
Customer Service and Building Relationships That Matter
We build parts, but more importantly, we build relationships. With over 800 customers and 150 vendor partners, we recognize that the connections we make and maintain are what drive our business. We work hard to foster customer loyalty, offer competitive pricing and make sure our customer service is impeccable and always accessible. We offer a variety of flexible options for metal stamped parts to best serve our customers' needs.
Industries We Serve
| | | | |
| --- | --- | --- | --- |
| Agriculture | Electrical Manufacturing & Switchgear | Hand-Tool/Hardware Manufacture | Military & Defense |
| Appliance | Electronics, Precision Equipment, & Computer Hardware | Heating, Ventilation, & Air-Conditioning | Oil & Gas |
| Architectural Metalwork | Fitness/Health | Heavy Equipment & Machinery | Power Generation |
| Auto Sports & Racing | Food Processing/Service | Industrial/Commercial Machinery & Automation | Ship/Boat Building & Manufacture |
| Aviation & Aerospace | Furniture, Home & Office | Lawn & Garden | Telecommunications |
| Construction | Gasket, Packing, & Sealing Manufacture | Medical Equipment & Hardware | And More! |