MEET THE WLS TEAM
Whether on the shop floor or in the office, every member of our team is a highly valued contributor at WLS Stamping. Because we're a short-run stamping and fabricating business, we don't hire for rigid, static positions. Instead, we hire smart people with a passion for growth, and we encourage every team member to carve out his or her own niche in our organization.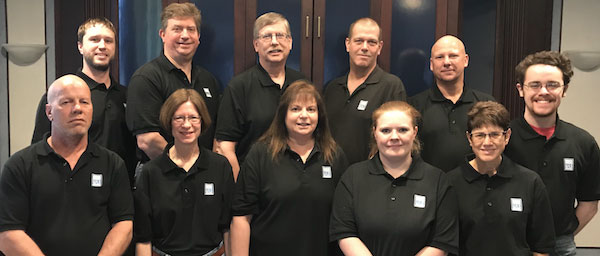 Today, WLS is led by a winning management team that has individually and collectively made great contributions to the manufacturing industry in various ways. They share an enthusiasm for seeing things grow-and not just for our metal stamping companies in Ohio and North Carolina, but for our industry as a whole and, of course, our customers' businesses.
Craig Kotnik – Vice President Engineering & Operations
Craig holds full operational responsibilities at WLS, managing production and labor across multiple shifts at both of our Ohio precision metal stamping and fabrication facilities. He's typically the point of contact for customers and sales representatives.Craig's product quality background started in 1983 and included experience at Joslyn Hi-Voltage Corp. (a division of Danaher), Total Plastics, Royal Appliance and Westinghouse/ABB. At the latter, he gained a foundation in building manufacturing equipment much like what we build for our customers today. Craig also came to us with lean manufacturing experience under his belt from his time at Danaher, ready to lead the charge of making our operations more efficient without compromising product quality. He has both a Bachelor of Science and a Masters in Industrial Engineering, from the University of Cincinnati and Cleveland State, respectively.
Kaizen Leader Danaher Corporation
Kaizen Leader ABB
ISO-9000 Implementation
---
Keith DeVaul – Corporate Director of Quality
Keith joined the team in 1998 to oversee and coordinate inspection activities and quality assurance (QA) deployment. We have Keith to thank for the implementation of ISO 9000 (a set of international quality standards) and his continuing dedication to always streamlining our processes. Keith came to us from Voss Industries, and before that, Osmonics, where he also oversaw QA. He has an Associate in Applied Science in Industrial Engineering from Onondaga Community College.
Certified Six-Sigma Green Belt
QS9000 Certified Auditor
DSQR GE Aircraft Engines
ISO9002/QS9000 Implementation Team Leader
---
Susan Nash – Chief Financial Officer 
Susan is responsible for the financial and operational side of our business, actively involved in all three of our manufacturing facilities and hands-on in her involvement with every aspect of company operations. She came to us from Danaher Motion and Power Solutions Group, where she was responsible for the consolidation and reorganization of multiple companies. Her previous experience included specializing in small-business audit and taxation at Price Waterhouse and developing and growing innovative strategies to foster growth and sustainability at OxyTech, an Occidental joint venture. She holds a Bachelor of Business Administration in Accounting from Cleveland State University.
Interested in learning more about what you could bring to our team? Contact us today.