Cold Rolled Steel Metal Wing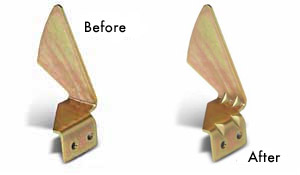 WLS ADDS EXTRA STRENGTH WITHOUT ADDING COSTS: METAL WING
Our customer wanted to increase the strength of this part to improve the life-cycle test results. So we were asked to evaluate their options. Three basic ideas were considered: change to a higher carbon content steel; heat treat the part; modify the design.
Our analysis showed that the best option was redesigning the part. With nominal tooling modifications, gussets were added to the part. In retesting, it far exceeded customer expectations. Turnaround time was 36-hours.
Material: Cold Rolled Soft Temper .104 inches
 Tooling: Standard tooling modified at a nominal cost
Quantity: 1200 units annually – 200 per Kanban release
 Finishing: Zinc plate
Let us help lower your total cost. Request a WLS RapidQuote today.