Steel Caster Bracket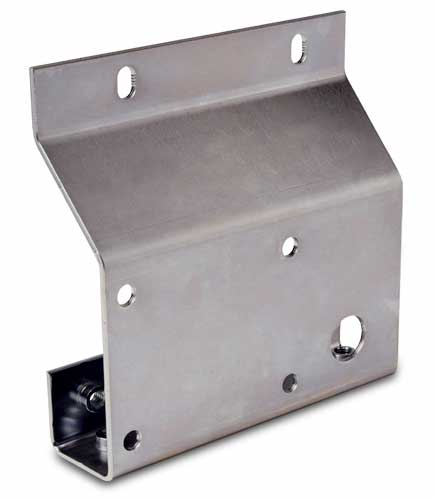 WLS HELPS THE CUSTOMER KEEP ROLLING: METAL CASTER BRACKET ASSEMBLY
This caster bracket assembly is produced in right and left hand designs. Releases for the parts are in small quantities and on short notice. To respond and make them efficiently, our design team determined the aluminum clinch nuts on the back flange could be staked during the manufacturing process. What made it tricky was they needed to be staked after finishing.
To produce the parts, we set up a manufacturing cell with a turret press, a press brake and a staking operation. Procedures were established for extra care and handling after finishing. With the cell, the procedures and our people, we created a perfect environment to quickly respond to our customers' needs.
Material: Hot Rolled Steel .134 inches
Lead Time: Three weeks
Quantity: 600 units each per release – right and left hand designs
Finishing: Zinc plate and clear chromate
Let us help lower your total cost. Request a WLS RapidQuote today.