Mobile Phone Heat Shield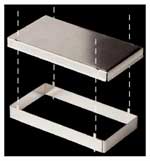 WLS HELPS LOCATE 911 CALLS FROM MOBILE PHONES: METAL STAMPED HEAT SHIELD
Our customer provides global positioning service for 911 mobile phone calls. This important safety net required new technology and hardware upgrades to all phone system base stations.
Pictured here is one of 12 different electrical shield and cover designs required for the project. Against a backdrop of Government mandates and evolving hardware, lead time and design changes became critical factors in their production. Faced with these constraints, our customer chose WLS Smartooling as an alternative to progressive die stamping.
WLS produced the initial run in 3-weeks. When you compare that to 12-16 weeks for progressive dies, and at about 1/10th the cost… Hello!
| | |
| --- | --- |
| Material: | Tin Plated Cold Rolled Steel .016 inches |
| Tooling: | WLS Smartooling |
| Quantity: | 12 different sizes – 200 to 15,000 units each |
| Finishing: | No special finishing required |
Let us help lower your total cost. Request a WLS RapidQuote today.